Regular price
$139.99 USD
Sale price
$83.99 USD
Unit price
per
Sale
Sold out
In stock
MADE IN THE USA

HIGH QUALITY MATERIALS

FREE SHIPPING ON ORDERS $40+
PRODUCT DETAILS

FACTORY SECONDS PLEASE NOTE:

While some of our previous batches did not pass the water submersion test, resulting in rust formation on the undersides, we want to assure you that these plates remain valuable tools for precision sharpening. With a keen awareness of their condition, you can still achieve exceptional results. We recommend exercising caution and employing protective measures during use to prevent any rust transfer. While the rust poses no harm to the sharpening process, we understand the importance of maintaining a pristine work environment. By taking a few extra steps, such as placing a barrier between the plate and your work surface or employing a rust inhibitor, you can continue to harness the remarkable sharpening capabilities that our Diamond Lapping Plates offer. Your dedication to the craft paired with these precautionary measures will ensure your experience remains uncompromised.


FAQ:

1. Are they still flat as regular plates?

YES! These plates are just as flat as our regular lapping plates.

2. Is there anything wrong with the diamond coating?

NO - The diamonds are the same quality and density.  Just the nickel coating is too thin to prevent rusting.

3. Will rust go everywhere?  

Not really - The plates will only rust further if they are left wet after use.  We recommend a paper towel so that any rust will not transfer to a favorite dish towel and storing it on top of something that you wouldn't get upset with some rust marks such as an old tupperware or scrap wood.

4. Can I use them dry?

YES and NO..... YES  If you are using them as a sharpening plate.  In fact you can use both of our regular and rusty lapping plates dry.  We sharpen all of our marking knives dry in house. 

NO if you want to lap your water stones because the claylike dust will just clog the plate without some water to clear it out.

More about our plates:

DFM Diamond Lapping Plates are engineered to offer precision flatness for your sharpening stones and blades.  We currently offer 2 grits - 120 and 220 grit with plans for finer grits in the future.

We start with U.S. made A36 Hot Rolled Steel which is more dimensionally stable than Cold Roll and CNC mill all 6 sides.  Extra large chamfers are added to the edges to promote better lapping.  We then lap the plates to less than 0.0005" flatness total tolerance across the 8 inch length of the plate.  The plates are nickel coated for rust resistance and the nickel is used to adhere the diamond grit to the plate.  The diamond crystal is selected to have a balance of wear and cutting characteristics.

Plates have 4 rubber feet permanently attached to the plate that conform to your sink or benchtop to prevent slipping or wobbling from an uneven surface.

Each plate is individually serialized including the month and year of manufacture for traceability.

Each plate comes with instructions on how to lap a water stone or other sharpening media.  Pictures of lapping a water stone in a sink are shown in the pictures here as well.
Share
View full details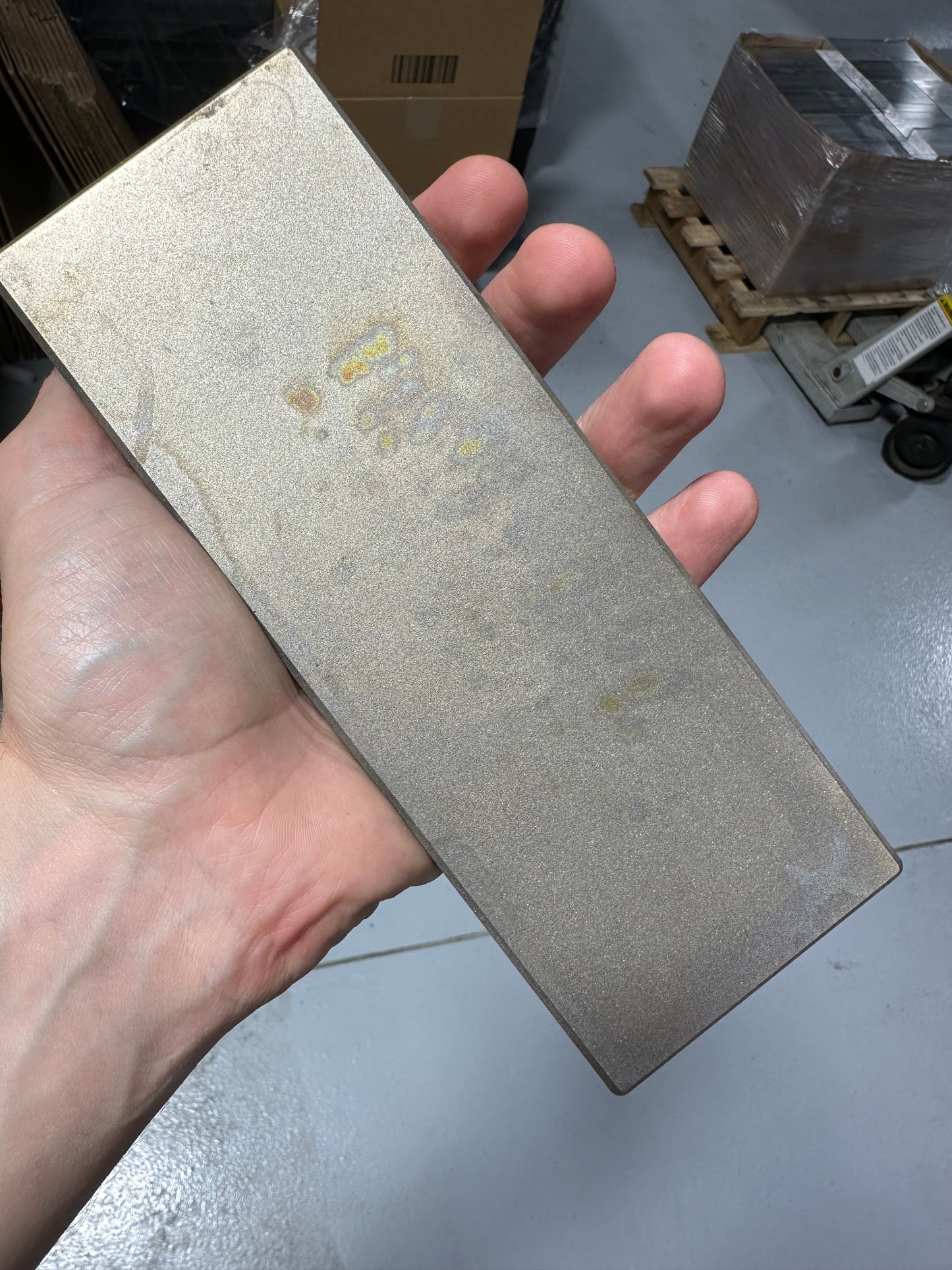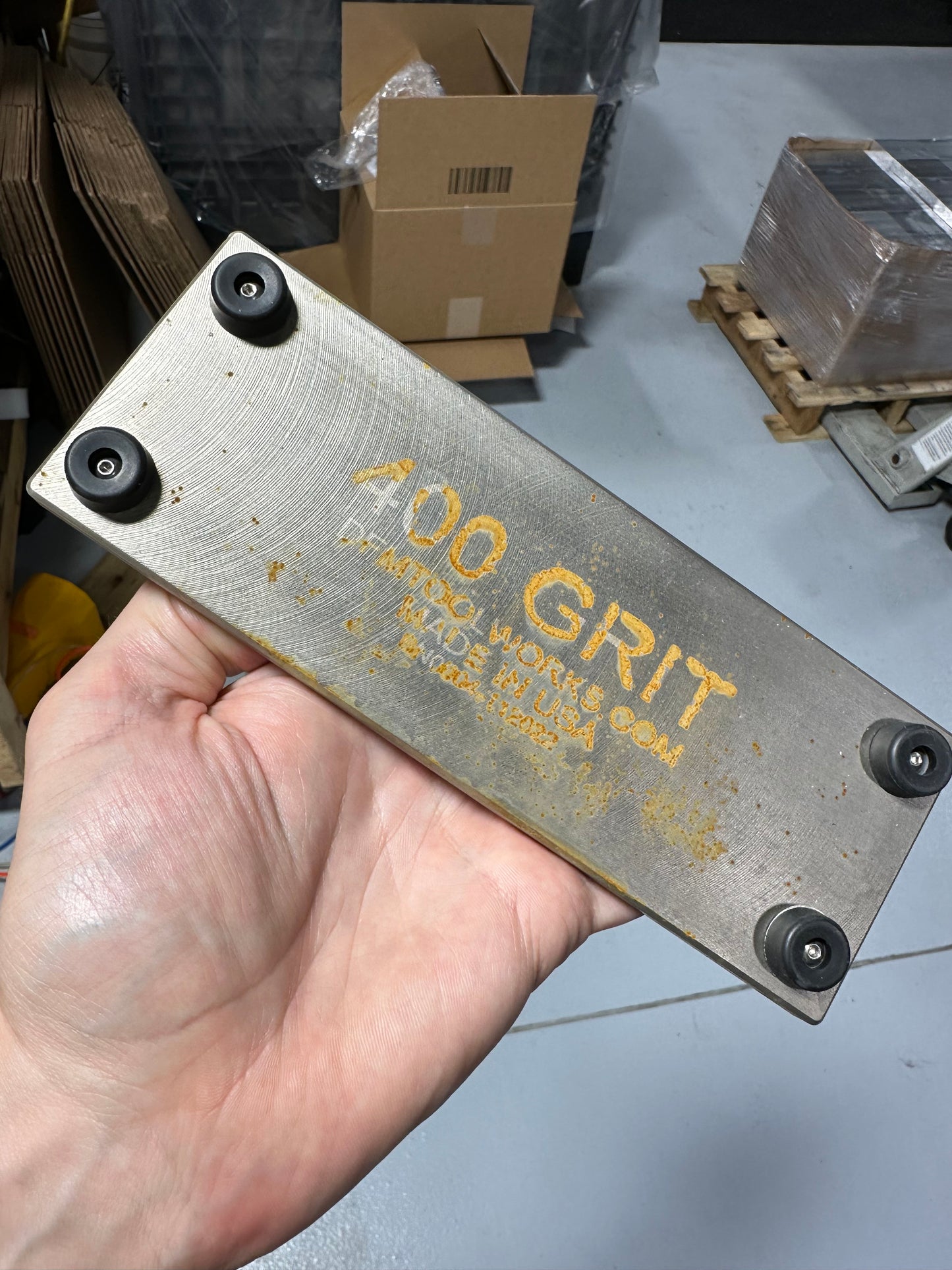 Rusty Seconds Diamond Lapping Plates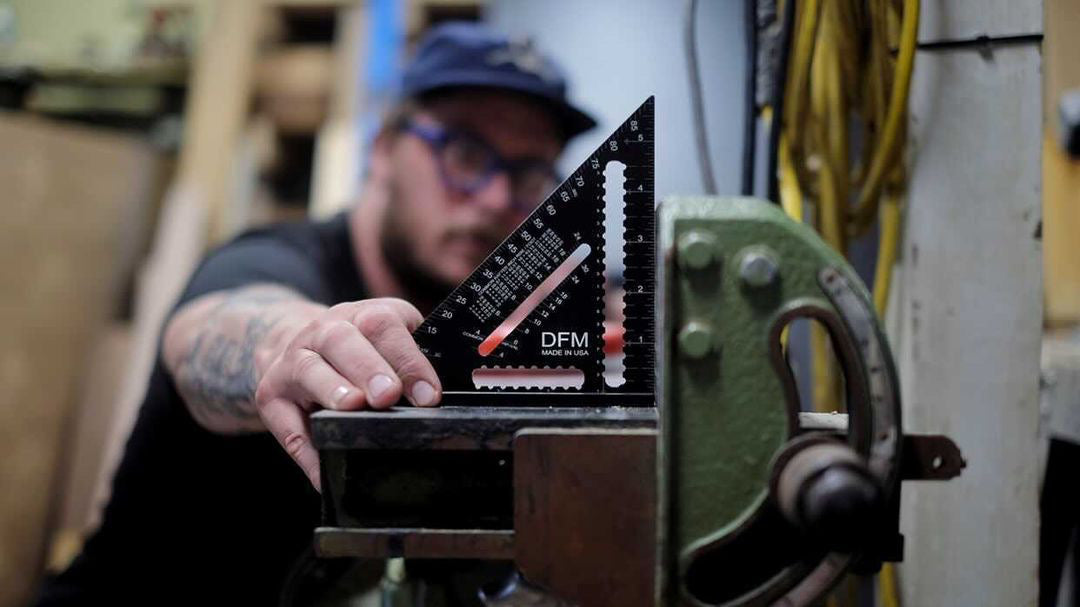 Creating great jobs with great tools
We believe in providing lifelong skills to Americans across the U.S. and providing another opportunity to improve the lives of people we employ or partner with and the communities they positively impact everyday.
FAQS
Where are your products made?

All of our products are made in the United States.
Is shipping included?

All orders over $40 ship free in the United States, excludes other countries.
What is your return policy?

We have a no questions asked refund policy as long as you return your item with the label we send to you. Standard 30 days after delivery date.
How do I get my first responder or military 10% discount?

We work with GovXID currently to validate your status either active duty or retired. You can sign up with them at their site or do so at checkout by clicking the GovXID button where they will send you a discount code to use at checkout.